"My biggest dream is connected to my work. I work as a teacher with children with disabilities, which is very challenging."
Peter Birka, a 64 years old deaf athlete told about the benefits of the project, young participants, happiness and his dream.
How do you feel about this project?
I am sure that it is very interesting. Not only for deaf, but for all sportsmen. So many young people collaborated in this EVS project and got in touch with deaf community. It is very difficult to make interviews with sportsmen with hearing disabilities. Personally, I'm very impressed that young people from different countries had short 3-days course sign-language and tried to learn as much as its possible.
All this work will be very useful for deaf community, it will also help to raise awareness about our community. It could also be very useful for your people to have sign language skills.
Will you take a part in this championship?
Of course, I will take a part in competitions. I am responsible for European championship here in Slovakia, so I must be there.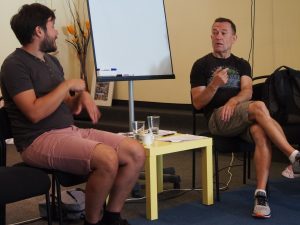 Do you think this kind of events will help raising awareness?
For sure yes! I am glad for all the participants and you will see for yourselves that the sing language is useful. We even can play music with it! It also can help to raise awareness by helping to understand that deaf community is active part of our society.
What was the hardest situation you faced as a deaf person?
Thanks to the fact that I used to be able to hear until 4 years old, it was such difficult situation in my life because as a child I didn't understand what happened. I immediately lost it within one day.  Many years later I found that I can be successful even as a person with hearing disabilities. I have a good education, I was good in sports. Deaf people can do it all. I don't feel I have faced any unusual difficult situation.
Of course, sometimes I see that some things are obviously more difficult for me than for the others, but I see adventures in it, I see benefits.
Our life is not only about sign language, it is also about happiness, quality of relationships and family.
What is your biggest dream?
My biggest dream is connected to my work. I work as a teacher with children with disabilities, which is very challenging. I started 20 years ago, I was working with children, was teaching them to read. Now they are parents and some of them also have deaf children. I see that all I had taught them was applied with their children. They are really satisfied, they would like me to teach children many different subjects. For me it's a challenge that I would love to accept. Now I teach small class – only 5 children. I dream that my research will be useful for the deaf community.
Author: Elena Kurshuk
Copyright: Mladiinfo Slovensko